Travel Tips
Most of the stations have descriptions in English these days, but please not expect that the conductors or station managers are fluent in English. We recommend that you print the map of the transportation you are going to take, and bring it with you.
IC Smart Card (ICOCA or SUICA/PASMO)
We recommend you to buy an IC Smart Card;
ICOCA [1] card at JR Kansai airport station or other JR train stations in Kobe/Kansai area (e.g. JR Sannomiya station)
which is a rechargeable contactless smart card used as a fare card on train/subway lines in Japan. All these cards are highly compatible with one another. If you get one of them, you can use it in Kobe/Kansai area, for transportation between your hotel and QM2015 venue (JR Line, Kobe Subway, Rokko Liner, etc).
You can buy an ICOCA card at card/ticket vending machines at JR train stations in Kobe/Kansai area. 2000 or 3000 yen would be reasonable to start. It includes a 500 yen deposit, so only 1500 yen or 2500 yen is available. More money can be charged on the card at the ticket vending machines or fare adjustment machines. Remaining money and deposit are refunded when the card is returned.
The card is also used as an electronic money for purchases at convenience stores, and can be charged there.
Images of IC cards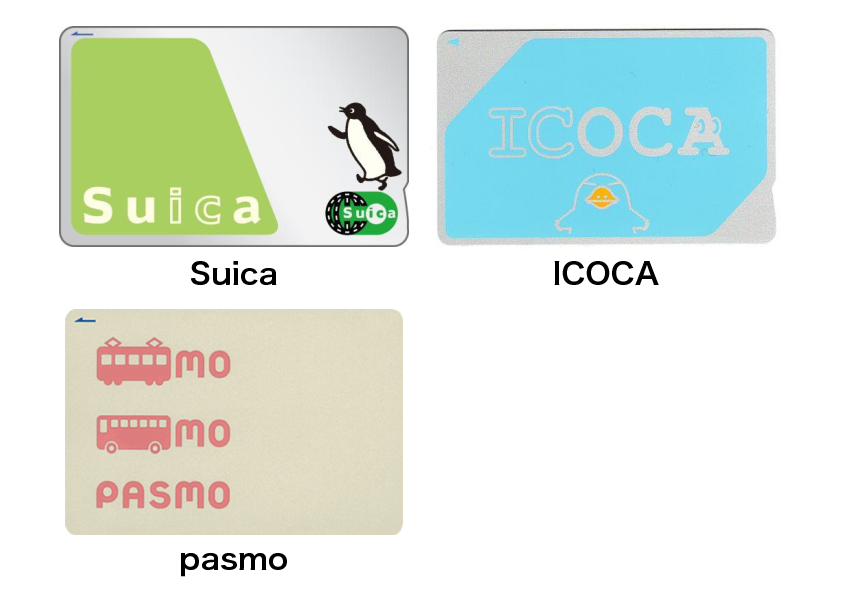 Safety
Japan is a relatively safe country. You should be safe in both the city and country side unless you show off valuables or money in public. Just exercise regular caution as you do in your country.
Currency
The latest exchange rate is $1~120yen or 1 Euro~130yen (Mar, 2015). The money is exchangeable at the international airports or a foreign currency exchange center of the major banks. Credit cards can be used at most of the major stations and hotels in Tokyo, Osaka and Kobe, while some local stations may not take credit card. In Japan, cash is much preferred in local small stores or restaurants. Also, even at places where you can use your credit card, it may take longer to pay, compared to cash. Japanese society still heavily relies on cash rather than a credit card.
Cash withdrawal at ATM
You can withdraw cash using your international brand credit, debit, prepaid and cash cards nationwide at ATMs of Japan Post Bank [4] and Seven Bank (a bank operated by 7-Eleven convenience store) [5]. Please note that no other Japanese banks accept international transactions. To find ATMs near your destination, Visa provides an ATM locator on their website which you can use to locate ATMs by your nearest subway/train station [6]. Certain Maestro cards with IC chips are able to make withdrawal only at the ATMs of AEON Bank(not Japan Post Bank ATMs and Seven Bank ATMs). Please refer to the URL for more details[7]]. We recommend that you exchange enough money to Yen before landing Japan, or at the international airports. ~5000Yen/day is a good estimate for transportation and a dinner.
Tipping
Japanese restaurants do not expect tips from customers. If necessary, restaurants will include it in the bill. You should pay just whatever is shown on the bill.
Electricity
The AC voltage is 100 volts throughout Japan. There are two kinds of frequencies in use; 50 Hz in eastern Japan and 60 Hz in western Japan including Kobe. The plug is as same as the one used in USA, Canada or Mexico, so-called Type-A, 2-flat-pin plugs. There are no columnar-shaped plugs or 3-pin plugs used in Japan.
Medical
---
In case of a medical emergency, please contact the organizers. It is strongly recommended that you carry travel health insurance. In general, the quality of medical treatment in Japan is excellent. You should not expect that a local anesthesia is performed by default for dental treatment.
Smoking
Japanese society is rather tolerant to smoking but the rules became tighter lately. Please observe non-smoking areas and go to the designated area for smoking.
[1] ICOCA (wiki) https://en.wikipedia.org/wiki/ICOCA
[2] Suika (wiki) https://en.wikipedia.org/wiki/Suica
[3] Pasumo (wiki) https://en.wikipedia.org/wiki/Pasmo
[4] Japan Post Bank HP http://www.jp-bank.japanpost.jp/en/ias/en_ias_index.html
[5] Seven Bank HP http://www.sevenbank.co.jp/intlcard/card2.html
[6] ATMs locations (provided by VISA japan) http://www.visa.co.jp/visitjapan/atm-locator/
[7] AMTs locations (provided by Master card) http://www.mastercard.co.jp/personal/atm-notification.html